Site Location Plans - How to get it right
Site Location plans can be expensive when prepared by an architect or other professional, for this reason many homeowners choose to create the site location plan themselves.
Common mistakes when preparing a site plan are:
incorrect scale
scale bar missing
map is printed at the wrong scale
red outline incorrectly placed
blue outline is missing
the mapping used is out of date
the licence information for the map is missing
In order for your planning application to be processed it must have an accompanying site location plan, and this needs to meet certain criteria. These criteria are:
based on high quality map data
latest revision of mapping
to a standard metric scale used for location plans
scale bar clearly visible and correct
printed to exactly the right size
include red outline for the application area
include blue outline if necessary
Guaranteed for Planning
Our Plans are guaranteed to meet the requirements of your Planning Authority.
Review of our Site Location Plan Service
"Great Service, and a pleasure to speak with you. I would definitely recomend."
Mr Biggly, London
Site Location Plan Scales
We usually produce Site Location Plans in the following scales:
Example of Block Plan showing required items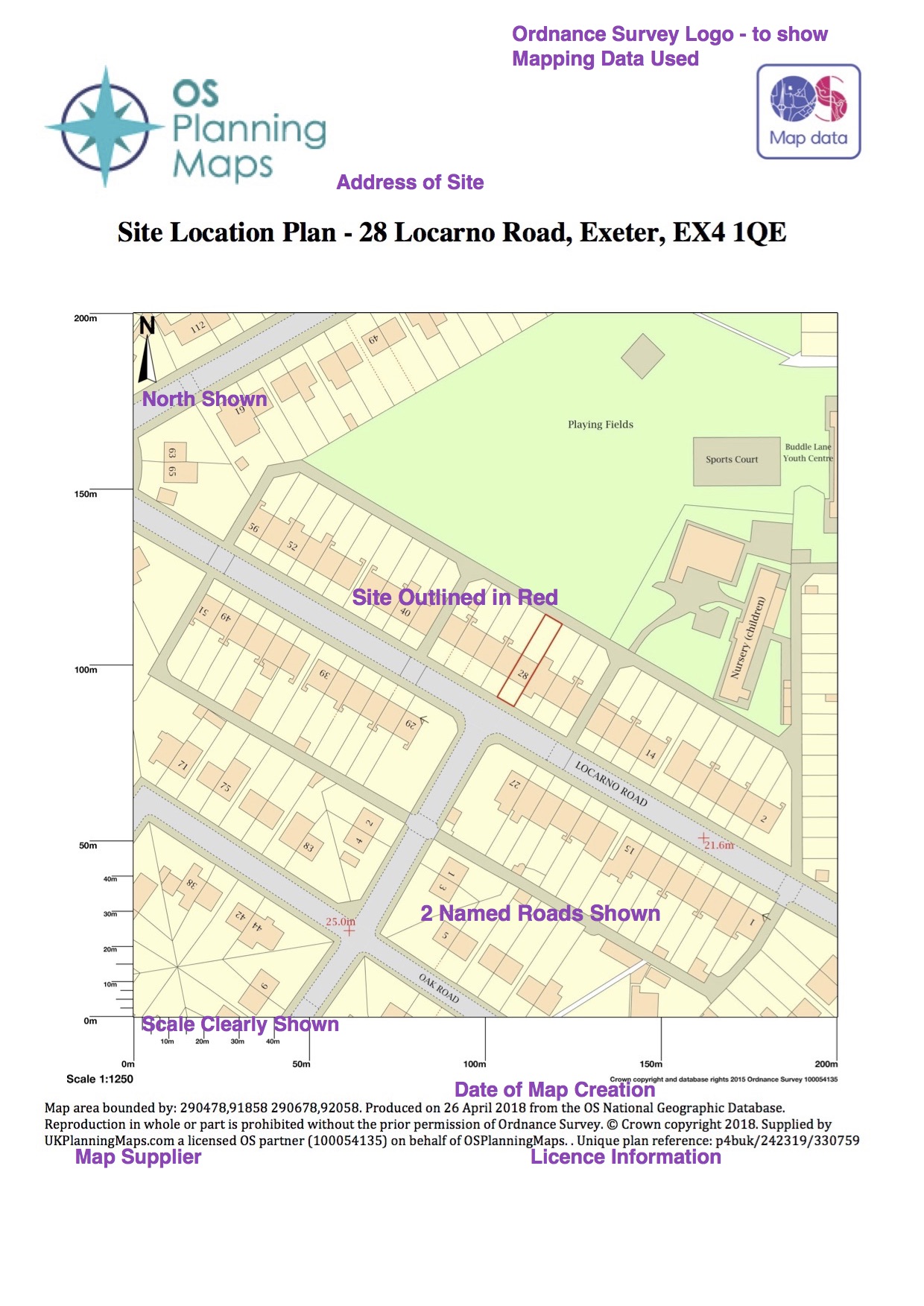 Example Site Location Plan:
Commonly Asked Questions About Site Location Plans
How can I get a Site Location Plan?
To order a Site Location Plan fill in our online form above or call us on 01856 252 049.
Do I need to submit a Printed Map or an Electronic Copy?
Most councils will accept either. It is much quicker for us to send you an electronic copy of your map - this will be sent to your by email within the hour. However, we do not have to charge VAT on printed site location plans, so these are significantly cheaper.
Why is there no VAT?
Printed site location plans are exempt from VAT.
What format are Site Location Plans avialable in?
Our site location plans are available as PDF or printed maps.
My council have asked for a Site Location Plan at 1:1,250 scale, what does this mean?
This means your site location plan should be mapped at 1:1,250 scale, or every feature should be represented at exactly 1/1250th of its real size.
What are 2 named roads?
Most councils require your site location plan to include 2 adjacent or nearby roads with their names clearly shown. This is to help them to locate your site.
Further information
For further guidance on other plans please see the following pages: