Block Plans
When submitting your planning application you will normally have to include a block plan showing the proposed development.
Here are some common mistakes found in block plans submitted with planning applications:
wrong scale used
scale not shown clearly
block plan printed at slightly the wrong size
map out of date
copyrighted map used fraudulently
boundary of development area marked out incorrectly
When creating your own block plan here are some important points to follow:
always use the best quality and most up to date map available – we use Ordnance Survey Mastermap
ensure the licensing information is included
use a standard metric scale that meets the council's requirements
print to exactly the right scale
show the development boundary in red
use a blue outline as well, if necessary
include sufficient detail of the proposal
show the direction north
Block Plan Scales
We normally produce Block Plans in the following scales:
Block Plan formats
Our block plans are provided as electronic PDFs or as printed maps.
Review of Our Block Plans
"Thank you for my Block Plan, it arrived quickly and looks great"
Mr Peters
Example of Block Plan showing required items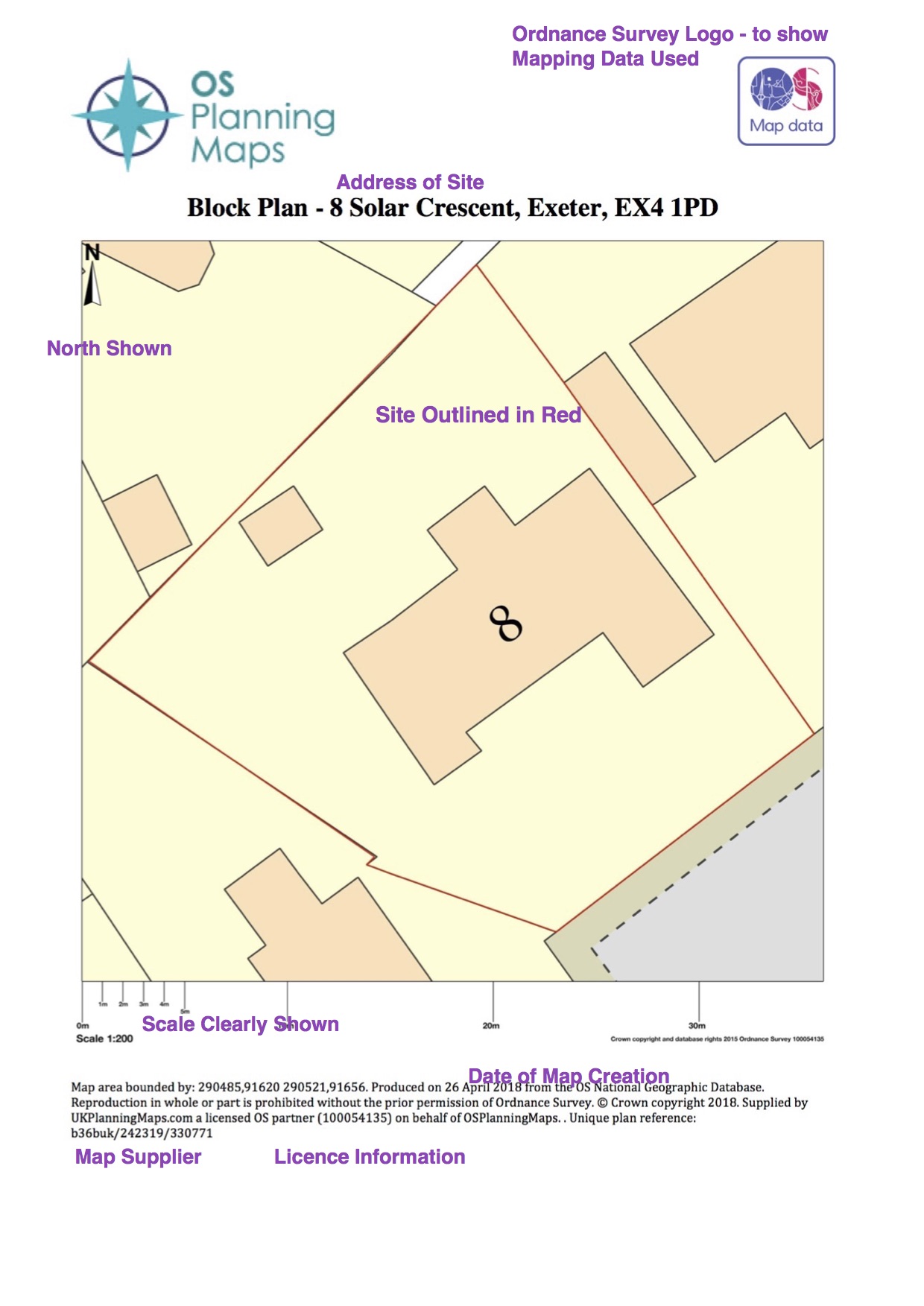 Sample Block Plan
Commonly Asked Questions about Block Plans
How can you order a Block Plan online?
You can enter your address in our form and we will create your Block Plan for you.
If you prefer to order by phone please call us on 01856 252 049
How long does it take to get a Block Plan made?
We can make your block plan and email it to you within an hour.
How good is the Ordnance Survey Maps used?
We use Ordnance Survey Mastermap, it is updated every 6 weeks, and provides a complete and comprehensive map of the entire country. It is Ordnance Survey's best map which prefered by councils.
Can I make my own Block Plan?
Yes, however it is an arduous process if you try to create your own map rather than purchasing an Ordnance Survey Map.
Should My Architect Provide the Block Plan?
Some do, however the cost is almost certainly higher as you will need to pay the mapping costs and the Architect's fees.
Further information
For further guidance on other plans please see the following pages:
Information on Site Location Plans